First African Baptist Church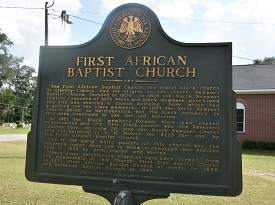 1709 Barrington Ferry Rd, Riceboro, GA 31323
The First African Baptist Church, the oldest black church in Liberty County, had its origins in the North Newport Baptist Church, founded in 1809. In 1818 the North Newport Church, composed of both white and black members, purchased this site and erected a church building here which had a gallery for the slave members. In 1854 the North Newport Church moved to Walthourville but the black members in this area continued to use the old building.
In 1861 the black members formed their own church organization and the first black pastor was the Reverend Charles Thin. On July 20, 1878 the North Newport Church sold the building to A.M. McIver for $225 for use by the First African Baptist Church.
One of the early white pastors of this church was Reverend Josiah Spry Law to whom a cenotaph was erected here in 1854 by both blacks and whites.
Three other neighboring churches have been formed from the membership of this church: First Zion Baptist Church in 1870,  First African Baptist Church of Jones in 1896, and Baconton Baptist Church in 1897. 
LeConte Botanical Garden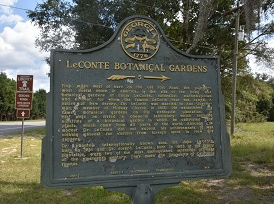 Southwest of US Hwy 17 (Ocean Hwy) and Sandy Run Rd intersection in Riceboro
Five miles west of here on the old Post Road, the southern most postal route in America, is the site of the home and botanical gardens of Louis LeConte, naturalist, mathematician and scholar, for whom the famous LeConte Pear was named. A native of New Jersey, Dr. LeConte was married to Ann Quarterman, a member of Midway Church in 1812. He established his famed botanical gardens on his extensive plantation. In his attic he fitted a chemical laboratory which included novelties of a botanical garden in which he cultivated rare plants, which came from all parts of the world. Although the modest Dr. LeConte did not exploit his achievements, it was nothing unusual for visitors from foreign lands to view his gardens. Dr. LeConte's internationally known sons, Dr. John LeConte, born in 1818 and Dr. Joseph LeConte, born in 1823, at the family plantation, were two of the most distinguished scientific scholars of the nineteenth century. They made the University of California famous.
Riceborough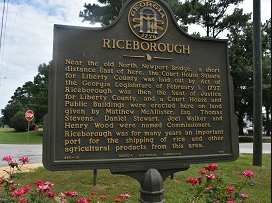 Southeast of US Hwy 17 (S Coastal Hwy) and Chemical Plant Rd intersection in Riceboro
Near the old North Newport Bridge, a short distance East of here, the Court House Square for Liberty County was laid out by Act of the Georgia Legislature of February 1, 1797. Riceborough was then the Seat of Justice for Liberty County, and a Court House and Public Buildings were erected here on land given by Matthew McAllister, Esq. Thomas Stevens, Daniel Stewart, Joel Walker and Henry Wood were named Commissioners. Riceborough was for many years an important port for the shipping of rice and other agricultural products from this area.
Simon Munro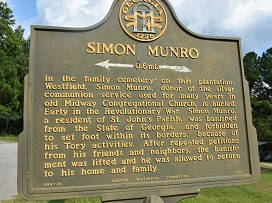 At the intersection of Shell and Briar Bay Roads in Riceboro
In the family cemetery on this plantation, Westfield, Simon Munro, donor of the silver communion service used for many years in old Midway Congregational Church, is buried. Early in the Revolutionary War, Simon Munro, a resident of St. John's Parish, was banished from the State of Georgia, and forbidden to set foot within its borders, because of his Tory activities. After repeated petitions from his friends and neighbors, the banishment was lifted and he was allowed to return to his home and family.