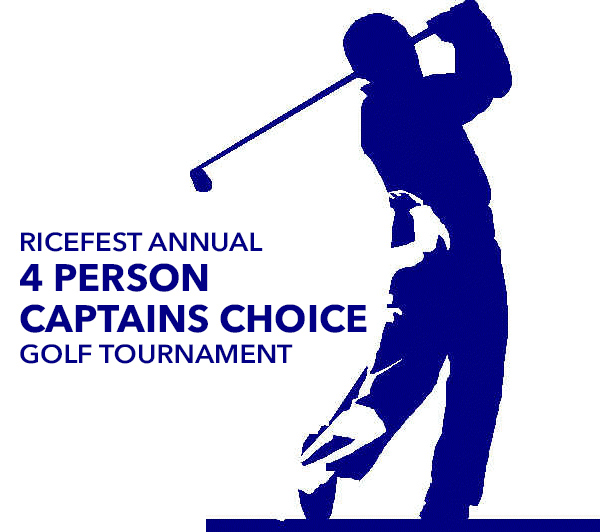 The City of Riceboro presents the RiceFest Annual "4 Person Captains Choice" Golf Tournament. This event will be held on Saturday, October 22, 2022 at Cherokee Rose Country Club, 225 Cherokee Trail, Hinesville, GA. 
Shotgun Start @ 2:00 pm.
Each team may purchase 4 Mulligan Tickets at $5.00 each. Tickets will be used for door prizes. The Red Tees Package purchases are $20.00 per person; this package will include Two Red Tees and 1 Mulligan Ticket that may be used on non-competition Holes.
Lunch and beverages will be provided during this event. Other competitions will include Longest Drive Hole & Closet-2-Pin Holes. Awards will be given to 1st, 2nd & 3rd Place Teams.
Proceeds will assist organizations in Riceboro, Liberty County and surrounding areas. Donations are Tax Deductible. The success of this event is largely due to your continued support and enthusiasm.  Please feel free to share this information with friends.
Please review the enclosed form: Participant's Registration. 
Should you have any questions please contact Chris Stacy (912) 695-0481.
Thanks for all of your support and we hope to see you in the Fairways or on the Greens.
Sincerely, Mayor Christopher Stacy, Event Director. 
Golf Tournament Players Registration
RiceFest Golf Tournament
@ Cherokee Rose Country Club, Hinesville, GA.
October 22, 2022
2:00 p.m. Shotgun Start 
4  Persons Captain's Choice
Hole-In-One Prize
1st, 2nd & 3rd Place Prizes
Longest Drive (Females & Males)
Closest to Pin/Par 3 (Females & Males)
Mulligans & Red Tees (Door Prizes)
Cost Per Team $200.00